This page is dedicated to new and exciting topics and discussion points relating to pets, Capital Veterinary Specialists, and veterinary medicine.
Capital Veterinary Specialists is proud to announce our newest team member, and 3rd Internal Medicine specialist, Dr. Richard Scroggin. Dr. Richard Scroggin graduated veterinary school from Louisiana State University in 1996. He received the Kaytee Special Species award his senior year for work with exotic animals. He practiced small and exotic animal medicine and surgery for 5 years. He subsequently completed a private practice small animal medicine and surgery internship in Chicago. In 2005, Dr. Scroggin completed a small animal internal residency at the University of Minnesota. He is a Diplomate of the American College of Veterinary Internal Medicine. His interests include oncology, immune-mediated disease, gastroenterology, endocrinology, ultrasound and infectious disease.

Dr. Scroggin will begin accepting patients on July 11th.
As of August 1, 2018, we will be offering Urgent Care services 7 days a week from 10am - 10pm.
We are now open for business in our new 11,000 sq foot specialty hospital located on a two acre campus at 1615 Mahan Center Blvd. Our new facility has on site CT imaging, under water treadmill therapy, 9 patient exam rooms, centralized ICU, two operatory suites, ultrasound suite, internal medicine/ chemotherapy suite, isolation ward, long term medical boarding and open treatment exam area.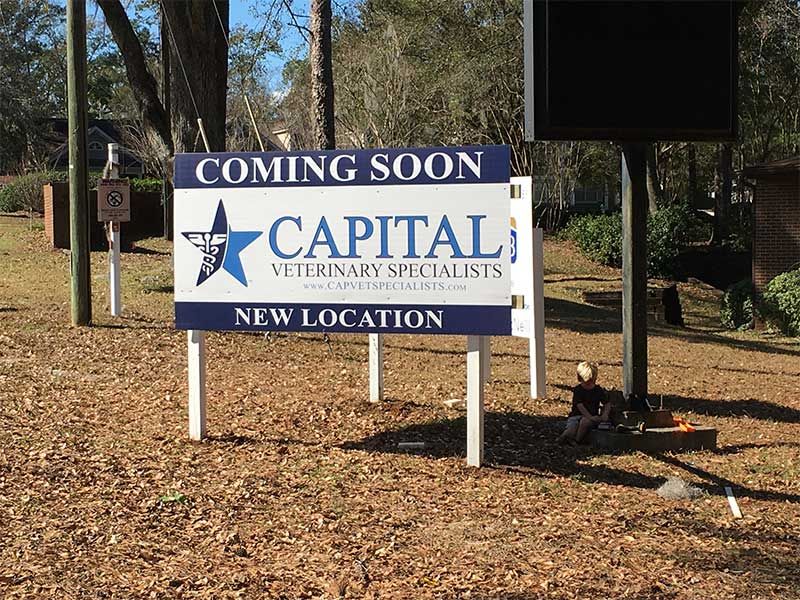 Capital Veterinary Specialists is excited to announce that we now offer PennHIP certification! If your dog is a high-risk breed for hip dysplasia, come see us for a consultation.
Capital Veterinary Specialists is excited to announce that we are now mobile! See the brochure below for details.
As part of our dedication to you and your patients, Capital Veterinary Specialists is excited to expand our services to include transportation for stable patients in need of specialty care. Now, clients in need of referral who are unable to make the drive due to scheduling, work or distance can now take advantage of our compassionate and cutting-edge care.
ROUTE INFORMATION:
Pick Up / Drop Off | 9:00AM | Every Tuesday & Thursday
Panama City Animal Hospital, 4307 US-231, Panama City, FL 32404
QUESTIONS? WANT TO LEARN MORE: